UKCRC TDCC attends Europe Biobank Week 2016
The UKCRC Tissue Coordination Cente attended Europe Biobank Week last week in its capacity as BBMRI.uk.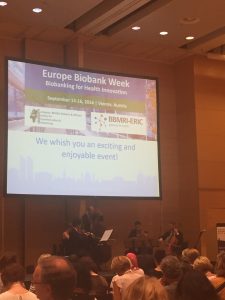 The event was jointly organized by ESBB and BBMRI-ERIC and was a great opportunity to meet with the global biobank community. The week kicked off with a string quartet to reflect Vienna's musical connections (right).
Highlights included lots of discussions on quality, kicked off by Alain van Gool from Radboudumc, in the Netherlands and his talk "Biomarkers in Personalized Health(care): time for quality, not quantity". The plenary session also features a fascinating talk by Akin Abayomi from Stellenbosch University, in South Africa about the different challenges in setting up an Ebola Biobank in his talk: "Operationalizing retrospective biobanking of dangerous Ebola samples in a post outbreak scenario – A Sierra Leone experience. An important synergy between Public Health and Security Agencies"
The afternoon saw a UK contribution by expert Professor John McLauchlan from the University of Glasgow (left), who highlighted his journey of creating a Hepatitis C Biobank: "HCV Research UK – Delivering Translational Research from a UK Cohort of Hepatitis C Virus-Infected Individuals"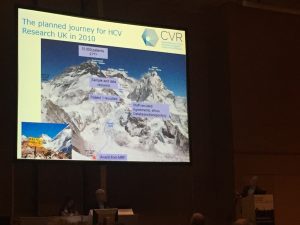 The first day was rounded off with some interesting ELSI issues. The difficulties of recognition in Biobanking were recognized by Anne Cambon Thomsen in her talk "Sample and data sharing for research: Why is it so vividly advocated and so poorly done? The route towards an enlightened future".
Wednesday morning saw some interesting lessons in sustainability from Henry Robben and Jason Carr, which really highlighted the importance of a business model in biobanking. The second poster session was also a success, with the Centre's poster featuring in the Organisation profiles section.
Both poster sessions also featured centre staff Jessica Sims and her board game "Biobank" which was a very popular addition to the afternoon. Jessica presented the game in the "New concepts and tools for public engagement" session with her talk "Be a biobank: Engaging the public in biobanking through games" (right).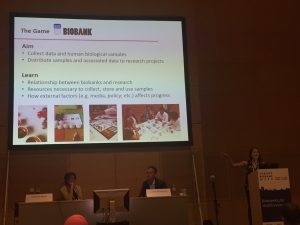 Wednesday was rounded off nicely with everyone donning their glad rags for a meal at the grand venue of Kursalon in central Vienna.
The organisers have already set their sights higher for next year by announcing Global Biobank week, in collaboration with ISBER, to be held in Stockholm from the 13th -15th September 2017. Keep checking our events page for more details.