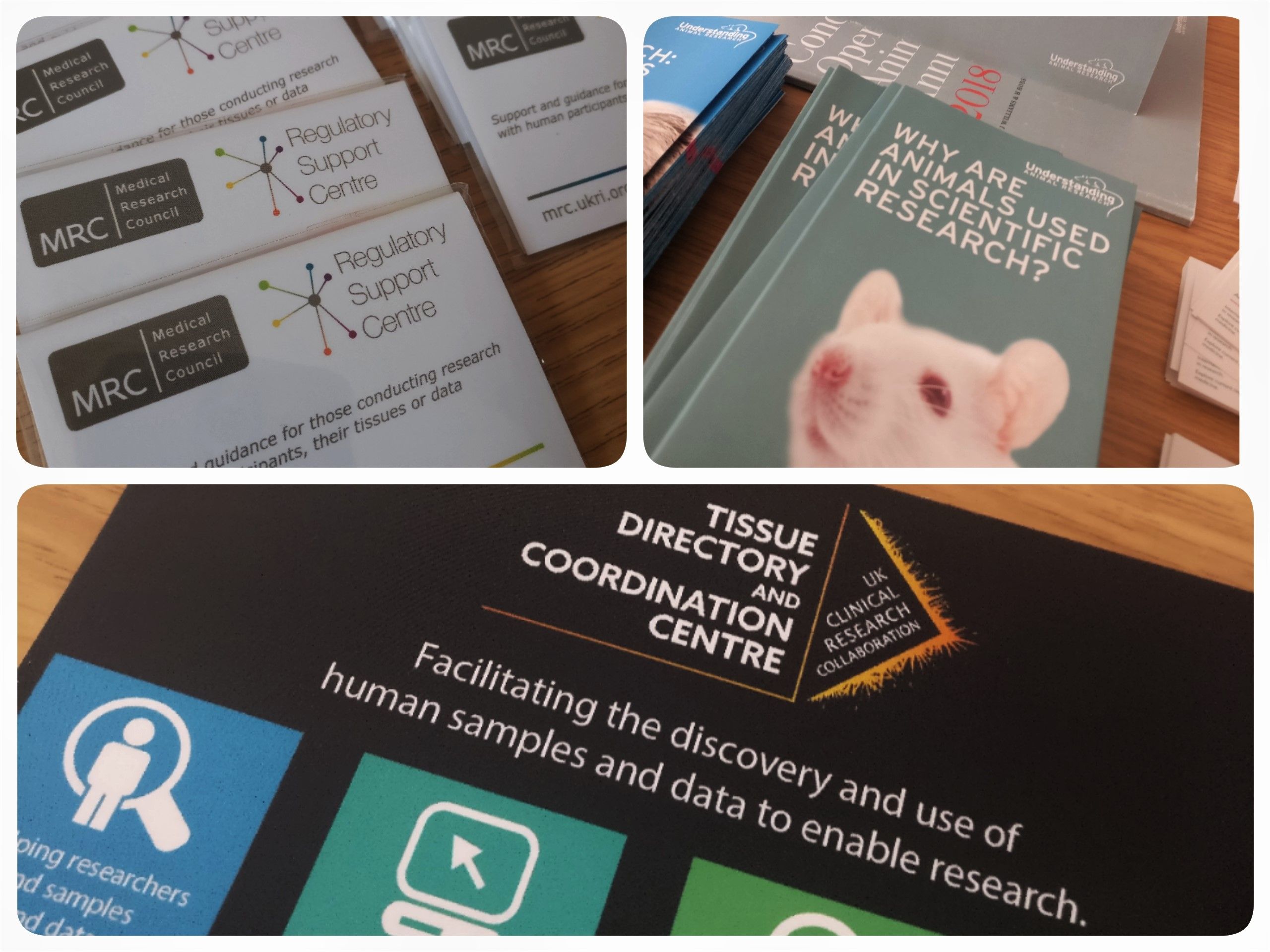 In this post, we hear from Jessica to find out more about the MRC Regulatory Support Centre's Human Tissue Forum meeting held July 2019.
My first Human Tissue Forum event
Recently I was invited to speak at a Human Tissue Forum event held by the MRC Regulatory Support Centre. The Human Tissue Forum brings together Designated Individuals, Persons Designated biobank managers, and others who manage human tissue collections within MRC units, cohorts and universities.
The day was focused on talks and workshops on three topics: donor expectations of what will happen with their samples, the BBMRI-ERIC ELSI Helpdesk and biobank sustainability. I found it really interesting to hear about a range of experiences from people working within licensed biobanks in different institutions.
Donor Expectations: Then and Now
Liz Danner from Understanding Animal Research was an invited speaker and presented on how to discuss animal research with donors. Her talk focused on promoting greater transparency and understanding of the role of animals in medical research. I hadn't thought much about the link between research involving animals and human samples. As a result, I've included this on our own website pages in case others are interested in learning more.
Touching on the topic of expectations, we broke into small groups to have more focused discussions of scenarios dealing with historical donor consent. These scenarios probed how a decision might be made about accessing samples from historical collections with different consent restrictions, or a lack of consent for future use. It was interesting to hear the range of interpretations of the consent forms based on individuals' prior experience, as responses were not necessarily in consensus!
It was enlightening to probe how different groups interpreted consent for historical collections. The MRC Regulatory Support Centre is asking people in the health research community (working with humans, samples or data) to complete a survey on research governance. They're running it to plan how they can further tailor the services that they offer. It's also a good chance to request further guidance on issues that you might face. Take the survey.
BBMRI-ERIC ELSI Helpdesk Can Support Your ELSI issues
In the second topic of the day, Heather Coupar introduced the BBMRI-ERIC ELSI (Ethical, Legal, Social Issues) Helpdesk to the group. The Helpdesk currently operates as a support service for researchers, biobanks and research infrastructures in the BBMRI-ERIC network. The questions they receive tend to be a mixture of domestic and transnational issues, and the Helpdesk engages ELSI experts from the countries involved in its responses. More information on the ELSI Helpdesk can be found on the BBMRI-ERIC website.
Biobanks and the question of sustainability
I presented during the last session of the day on biobank sustainability. My presentation focused on the basic understanding of what sustainability means, and applying that to biobanking operations. I highlighted some findings of a recent ISBER survey published in June, which emphasised the importance of monitoring and evaluating key performance indicators. They asked respondents about 10 specific indicators, including cost recovery, sample utilization, sample quality, number of  projects supported, and publications - among others.
I found it interesting that the participants highlighted the importance of appropriate IT infrastructure for sample and data service delivery. Some people found system upgrades difficult to finance even though they recognised their importance. It does seem like it could be a catch-22 scenario – we need funding for better infrastructure to release samples and data, but without releasing samples and data it can be difficult to prove impact and thus secure more funding. Monitoring and evaluating the impact of sample release, however modest, at least provides a means of determining success.
Data Protection, Research and You
I really enjoyed the day and hope to be able to go to more Forum events in the future. We are thrilled that the MRC Regulatory Support Centre will speak about GDPR and research at our 2019 annual conference in November. In the meantime, you can access their guidance notes on GDPR, created in collaboration with the ICO, on their website.