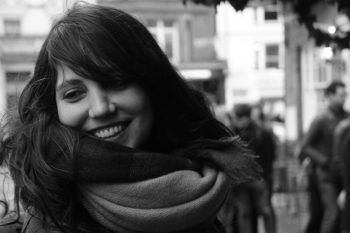 Research Project:
Ana researches the genetic alterations (mutations) that are inherited in families who have leukaemia without a known cause, within a Bloodwise funded programme; 'Acute Myeloid Leukaemia (AML) familial cases, where two or more affected individuals are found in the same family, are rare but represent a high-risk group of patients who require unique management.' She studies the mutations in these families to better understand the cause of disease; 'The project will lead to a fundamental change in the understanding of familial AML and is a step forward in prevention, diagnosis and management of this life threatening disease.'
Samples required:
Ana uses bone marrow or blood cell samples from a Biobank. They have consent to store material from each patient and a separate ethical approval to perform research on these samples.
Why Biobank?
'My whole project is completely based on biobanked samples. The only way for studying familial AML is using blood or bone marrow samples taken directly from the patients.' Ana screens groups of families for the shared mutations to identify the inherited mutation predisposing patients to AML. This work will help 'confirm the diagnosis and lead to better management of patients', she says. At the same time Ana relies on biobanked samples to study the genetic causes of the disease; 'functional studies cannot be done in established cell lines because none of them reflect what is happening in familial AML patients'.
What do you find challenging about working with human samples?
'The frustration with working on human samples is the limited amount of material that may be available to perform all the experiments we would like to do. The second limitation is the difficulty in growing the cells, which makes some experiments where we need live cells, for drug testing or epigenetics assays, very challenging.'
What is the worst part of your job?
'Typically funding is for a fixed period of three years, so we have a finite amount of time to complete a piece of research', she says;  which can be difficult given the wait for a sufficient number of samples for experiments.
What is the best part of your job?
'Our studies on familial leukaemia will improve the lives of many families in a difficult situation'. She says; 'every patient and their family members with suspected familial AML can now be tested for mutations in the known disease genes to identify the genetic risk.' This work is done in collaboration with the West Midlands Regional Genetics Laboratories in Birmingham. Finally she says, 'research is a global effort and it's rewarding to meet and present your work at international leukaemia meetings and engage with other researchers in the field.'
You can read more about Ana's work here:
Germline heterozygous DDX41 variants in a subset of familial myelodysplasia and acute myeloid leukemia
Whole exome sequencing reveals novel candidate genes in familial MDS/AML
You can read more about AML here:
What is acute myeloid leukaemia - Cancer Research UK
Acute myeloid leukaemia (AML) - Bloodwise
My Story - A story of Alexandria's battle with childhood Leukaemia
Acute Myeloid leukaemia - Macmillan Cancer Support
You can also read our introduction to Biobanking to find out more.