use MY data event: All talk and no access?
use MY data hosted a workshop in London on the 7th of May, 2019 entitled "Patient data – balancing access and protection: All talk and no access?". The day-long event identified issues preventing timely and appropriate access to patient data and brainstormed ways to address them. A diverse range of backgrounds and perspectives was present. Patients, carers, researchers, and those from government agencies, medical charities, and the private sector were all in attendance.
The morning included presentations by speakers from NHS Digital, Public Health England, and Health Research Authority, among others.  Round table conversations and discussions with panellists from Medical Research Council and Health Data Research UK followed the presentations. There were many opportunities for questions and networking.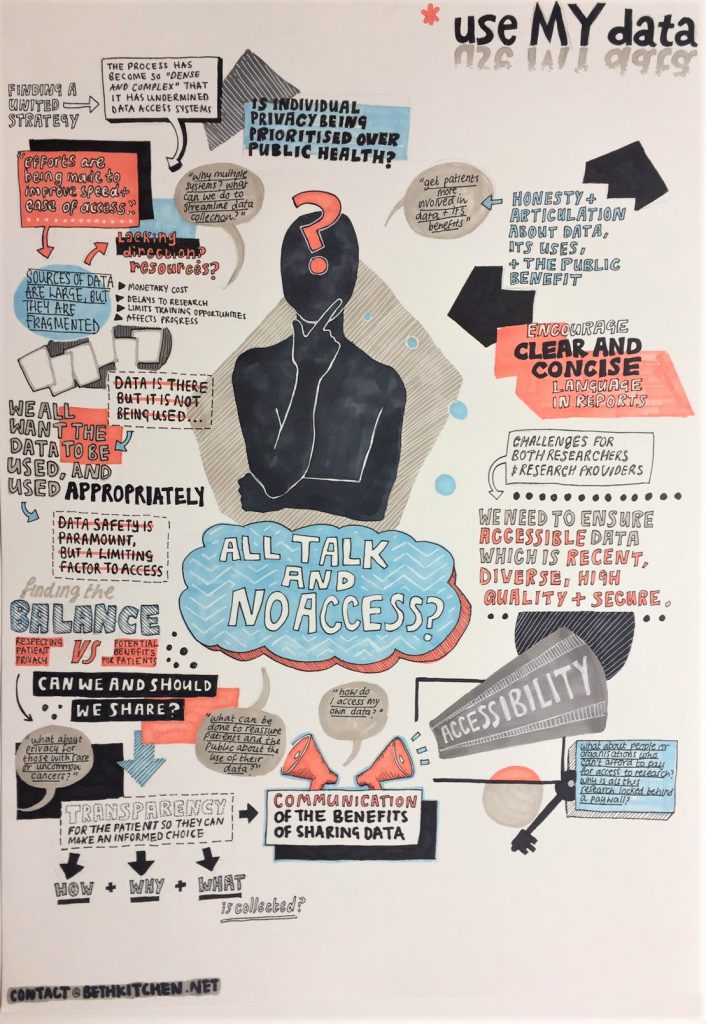 Transparency and communication are key
After lunch, there was a set of lively and engaging round table discussions.  A facilitator at each of the ten tables collected the table's questions for sharing with the whole room. A panel representing university, patient advocate, and commercial perspectives used these as a springboard for commentary and feedback.
A main theme arising from the day was that transparency is paramount. Clarity is needed on the collection and use of patient data -- why, how, and for what purposes. Additionally, there is a multitude of systems and organisations involved in accessing patient data, which can be confusing. People are happier to share their data when there is transparency about its use.
Another theme that arose was that organisations and processes sometimes operate as silos. Relatedly, bureaucratic processes should be simplified and streamlined to avoid overlaps. Unfortunately, despite best efforts to the contrary, systems have been getting more rather than less complicated. As an example of a result of these problems, someone commented that industry is starting to go overseas for patient data because it is too difficult and expensive to access in the UK.  There is room for improvement!
Engaging everyone in research
Patients indicated an eagerness to participate in research and share their data. Everyone agreed that continued public engagement is key for building trust and that researchers should explain their work to those providing their data in an accessible manner. This might involve researchers sharing summaries of their research more broadly or asking patients what they would like investigated.
Common obstacles to the effective sharing of research include findings being locked behind a paywall and written in language inaccessible to non-specialists.
However, attendees also acknowledged that providing information useful for a range of audiences can be a complicated beast to tackle!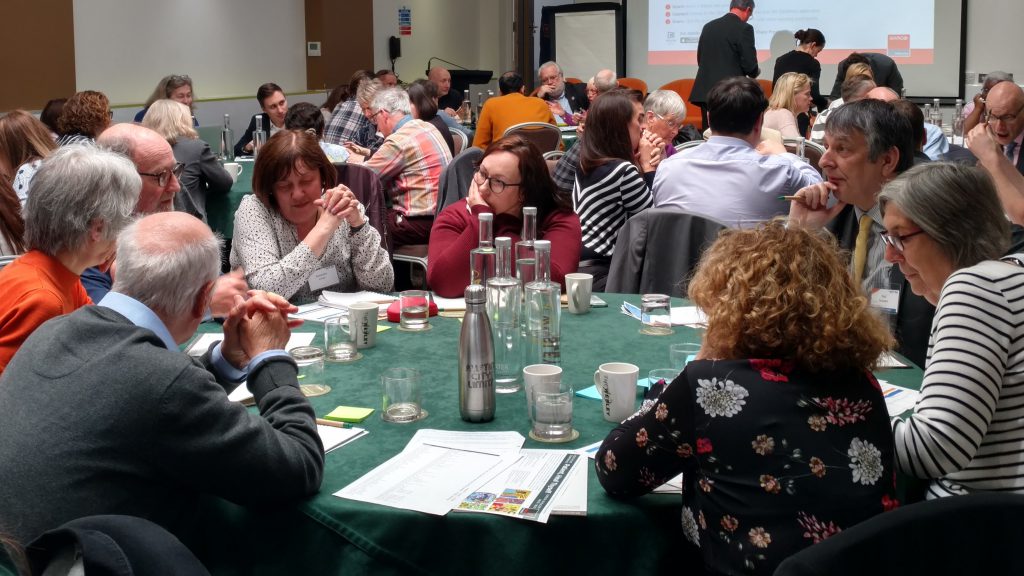 Streamline and simplify
Some attendees bemoaned the amount of time, from application through to release, it can take to obtain data.  In addition, approval processes and timelines often do not align with funding realities. For example, it might take a PhD student two and a half years to obtain data when she has funding for only three years. Likewise, a grant-funded researcher might be on a short-term contract that does not cover the time it takes to prepare an application, receive and analyse data, and publish findings.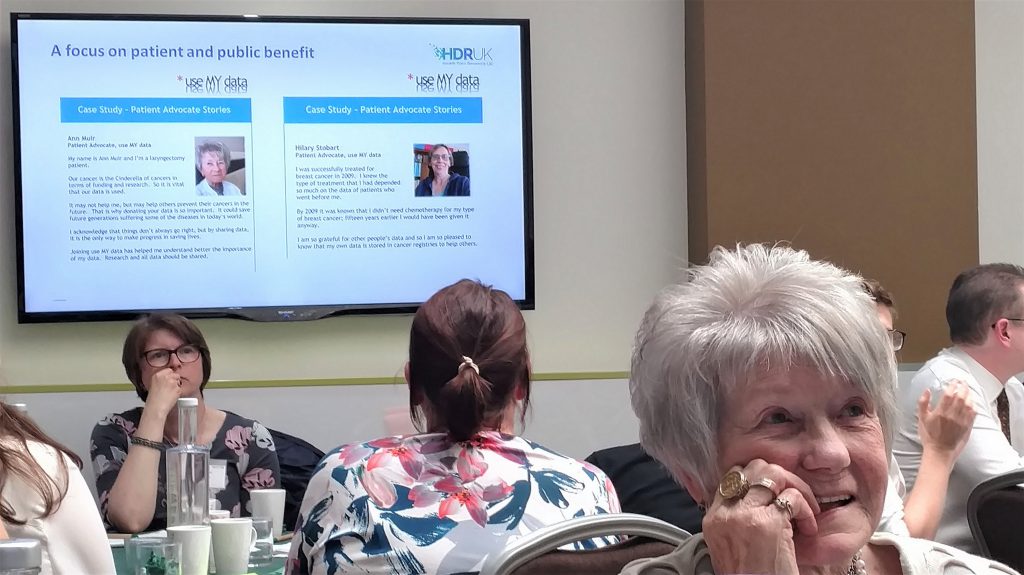 Who pays?
A number of participants raised concerns about the costs of accessing data. This issue may become even more pertinent as those responsible for data release adopt full cost recovery models in a move towards achieving financial sustainability.
Generally speaking, sometimes there is an under-appreciation of the time and effort it takes to collect, store, retrieve, and curate (clean and prepare) patient data for sharing. Thus, funders and researchers might balk at or simply be unable to cover the costs of obtaining patient data.
Sharing is caring, and reducing fear with knowledge
Representatives of regulatory agencies said that they had focused on improving communications about their efforts related to patient data access. Additionally, they stated that they would like to receive feedback on how to further improve.
A barrier to data sharing is a fear of getting something wrong with data protection, including unintentionally running amok of GDPR. However, there is a balance that the field can strike, with the protection of patients, preservation of their autonomy (through the ability to "opt out", for example), and the promotion of the public interest all occurring.
At the same time, someone emphasised the importance of providing ongoing training for data scientists on the appropriate use of patient data. Another priority should be attracting female data scientists to the field since historically they have been under-represented in data science.
To raise the visibility of the importance of patient data, a patient advocate encouraged researchers to use a citation created by use MY data members and adopted by the Understanding Patient Data group in all publications reporting on research using patient data, including journal articles, posters, and presentations.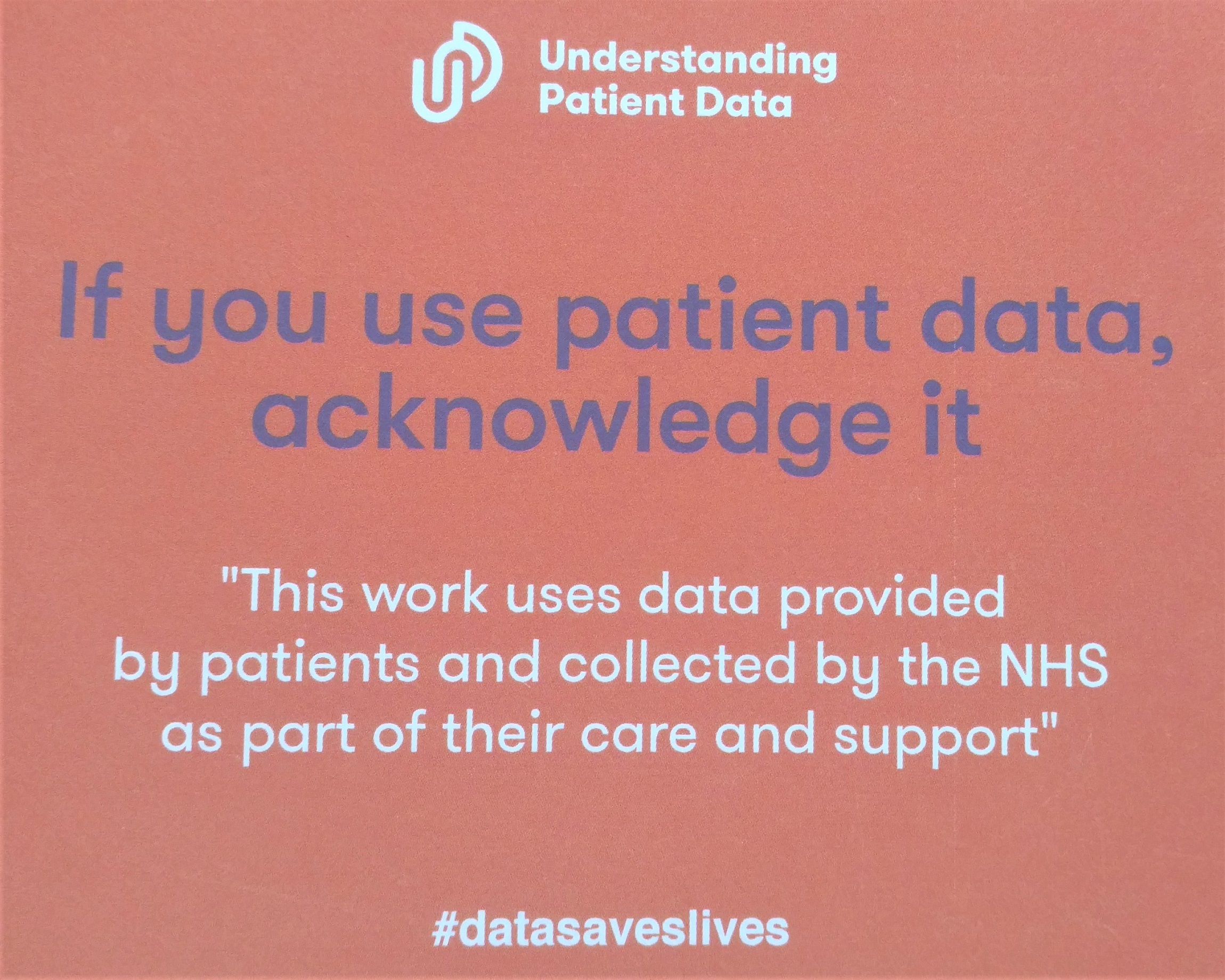 What next?
The ultimate aim underlying health research is to improve care, treatments, and quality of life.  An audience member reminded us that patient data has enabled the approval of all current treatments, and that everyone is a patient at some point in his or her life!
One thing is clear: We have much work to do in simplifying the data landscape.  This is especially true as our world becomes more technologically-engaged and projects become more innovative and designed to use "big data".
Furthermore, there was a consensus that all stakeholders could contribute to improving data-sharing culture and procedures. Moreover, progress should be happening more quickly. Despite the challenges, there is willingness on all sides to do what it takes to progress.  All sides remain open to feedback and are eager to cooperate and learn from each other. Harnessing that good will and creating partnerships will be key going forward.
In the end, everyone has the same end goal: to use patient data, and to do so quickly, cost effectively, efficiently, and with appropriate consents in place.
Slides from individual presentations and a full summary of the day's events including each speaker's main points are available on the use MY data website.