Wales Cancer Bank wins Biobank of the Year 2020
The Wales Cancer Bank (WCB) won the title of UK Biobank of the Year for 2020. They were announced as the winner at the UK Biobanking Showcase, which occurred over a week of online events. Tommy's National Reproductive Health Biobank was also recognised by the panel by receiving an honourable mention. This year's award was kindly sponsored by Achiever Medical.
The judging panel for this year's award was comprised of two members of the TDCC Steering Committee, and one member of use MY data. They were particularly impressed with WCB's application as it demonstrated a strong performance across many of the criteria for the award.  In particular, the panel singled out this biobank's agility in responding to the COVID-19 pandemic, despite being primarily a cancer biobank. They felt that this showed a proactive quality which underpins their service. Additionally, they were also impressed with the biobank's patient and public involvement activities.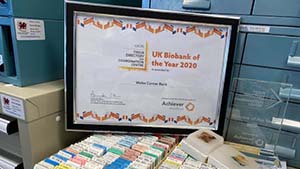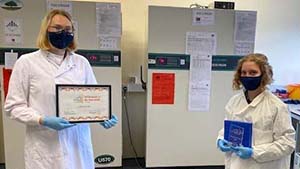 Recognising hard work during a difficult year
WCB Operations Director Dr Alison Parry-Jones commented about receiving the award,
The Wales Cancer Bank is proud to receive this award and thanks the sponsor, panel and the UKCRC TDCC.  This is for the wonderful team we have at WCB - it has been a challenging year, not only because of COVID and lockdown but we were applying for continuation of funding and we had a large internal (routine) audit followed by an HTA inspection in January.  The staff were magnificent, pitching in to help with activities not in their job description - we managed to audit 7,000 consents in three months in preparation for the audit and inspection. 
COVID and lockdown has given us challenges, as it has many other biobanks, but we are now back up and running and supplying samples again to researchers.  Hopefully the next 12 months will be a little quieter!
Biobank of the Year 2020 Award Entries
Wales Cancer Bank joined five other entrants for the competition. These entrants ranged in subject area, location and scale.
The judging panel awarded Tommy's National Reproductive Health Biobank an honourable mentioned for their application. They were impressed by the rich data Tommy's supplies and evidence of its ability to cater to an unmet need. They commended the biobank for providing an important specialist resource that is specific to one area of medicine. Furthermore, they noted that evidence of collaboration with industry and patient support charities was supplied and how that work provided benefit to patients.
Each applicant was tasked to submit an application form with general information about the resource and a poster. The poster entries are available for download via this page.
UK Biobank of the Year 2020 was kindly sponsored by: