Biobanking under COVID-19: Business, but not as usual
Edinburgh CRF provides state of the art facilities to support multidisciplinary clinical research locally, nationally and internationally. It is a joint research centre between the NHS and the University of Edinburgh.
Emma Lawrence, Research Engagement Manager at the UKCRC TDCC opened the webinar with an overview of how COVID-19 has affected UK biobanks. Lee followed Emma by discussing the COVID-19 research his team has supported and how they have adapted their lab and working practices to enable this. He highlighted the important contribution that technicians make in this work. Lee also answered attendees' questions about data sharing and how changes in social distancing will impact his team.
Polls were used during the webinar to compare how others' work has been affected by COVID-19 and involvement in activities, the results of these are shown in the graphs below. A large number of attendees were unaware of the coordination role the UKCRC TDCC had taken on since the pandemic, this number correlates with a large number of attendees not working in biobanks. Most webinar attendees were office based staff. Attendees who do work in biobanks had mixed situations in terms of collecting and sharing tissue samples from COVID-19 patients. Some biobanks have developed their risk assessments for working with known or assumed infected tissue samples.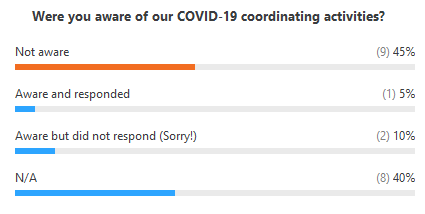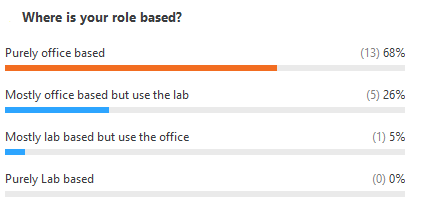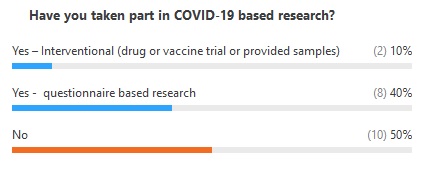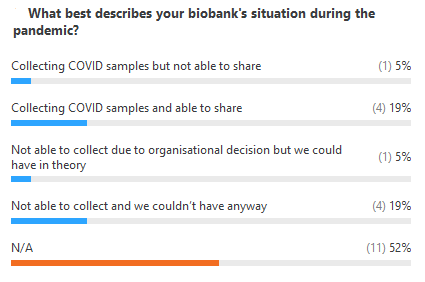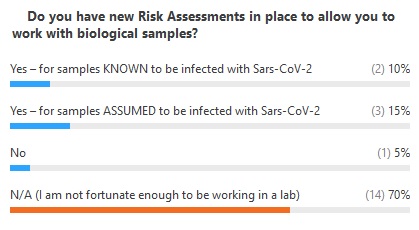 The first webinar in our series was titled 'Data Sharing: Insight from Generation Scotland'. You can catch up on this here.
If you would like to partner with the UKCRC TDCC on a webinar, or you have a suggestion for future content, we'd love to hear from you. Contact us here.